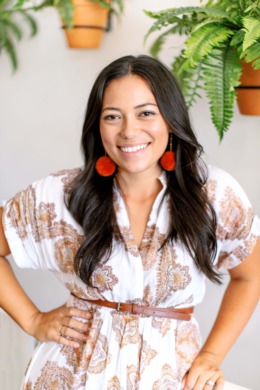 As an entrepreneur with almost a decade of experience producing high end weddings and events, Marina's professional skill set as unique as it is diverse. She brings her positive attitude and creativity to each client relationship, ensuring customer service is top priority. As the owner of Roam Rentals, a successful rental and home staging company on Oahu, she brings insight into the home buying and selling process from a design perspective ensuring her clients get the most value possible.
She is a military spouse, multitasker and go-getter, that is eager and dedicated to helping people relocate to and from Hawaii. She recently joined the award-winning Farris Team, and will be assisting their cliental of buyers and sellers, with her talents and positive outlook.
When Marina isn't working hard for her clients, she can be found on her family farm in Waianae producing Oahu's best raw honey for her company Tolentino Honey Co. True success is loving her husband and two kids to the fullest, living her purpose, and being grateful for every moment.
Follow her and her brands:
@marinattolentino_
@tolentinohoneyco
Testimonials
Our experience purchasing a home with Marina was amazingly smooth and stress-free. The efforts Marina put in to make sure we were kept informed and ahead of any issues or concerns made a world of difference. No one likes to be surprised while buying a home and Marina went out of her way to make sure there wasn't any of that. There were several times we would have a simple request or question and she would go above to answer us and anticipate any follow-on questions. She is adept at knowing when to push hard and when to take it easy, and has what I would consider the perfect amounts of tact and aggression when negotiating. Marina is working with the Farris Group who also really impressed us, their professionalism and support for each other was very evident throughout the process. Anytime we would have a question that Marina didn't have personal knowledge of she was able to get an answer from her team with context and expertise from years of experience. So anything Marina may not yet possess personally when it comes to experience she is very well equipped and knows how to utilize her available resources. We never felt like we weren't getting what we needed. I am happy to recommend Marina as a realtor. She possesses that certain X-factor that makes you feel taken care of, because she does care. More than that, she's good at what she does, so anyone choosing to work with her is making a great decision. If this is long-winded I apologize, there are just so many great things to say about how we feel working with Marina. Highly recommended to say the least.
The Kissell Family
Marina should be your realtor. Just purchased in Honolulu! Ran into Marina at an open house and started chatting. She took down my information and began helping me right away, despite the fact I wasn't really looking for a realtor at the time. She assisted me for 2 months across Oahu until my wife and I found "home." Usually responded to my questions and requests within minutes, and I don't think I ever waiting longer than an hour. Bottom line - She is friendly, professional, knowledgeable, and if she doesn't know something off hand she gets you an answer within a day. She also has a good team working with her.
The Pike Family
We discovered Marina through one of her social media channels where she shares informative videos about buying a house in Hawaii. As first time buyers, we felt empowered to start the process after watching her videos. We reached out to Marina via email, and got a response in minutes. A day later, we've started viewing houses. After a week, we were able to make a decision to place an offer on the house we love. Marina guided us every step of the way with constant communication through texts, e-mails, and video calls. With her amazing team, we were able to close on our dream house around 45 days from our accepted offer. The process was clear, simple and easy to understand because of her continued guidance. We were so lucky to have found Marina. We felt that she had our backs and she is very supportive of us in creating the next chapter of our lives.
The Sybico Family